Global recession fears are still in play, judging by how much safe havens such as gold and US Treasuries have climbed so far this year.
With that in mind, investors will be nervously awaiting the first PMI readings of 2023 to get a handle on how much of an economic slowdown is brewing.
The global activity surveys are expected to continue showing weak demand, following on from the bad end to last year.
Here are some key economic data release and events due this week:
Monday, January 23
JPY: Bank of Japan December meeting minutes
EUR: Eurozone January consumer confidence; ECB President Christine Lagarde speech

Tuesday, January 24
AUD: Australia January PMIs, December business confidence
EUR: Eurozone January PMIs
GBP: UK January PMIs
USD: US January PMIs
Microsoft earnings

Wednesday, January 25
NZD: New Zealand 4Q CPI
AUD: Australia 4Q CPI
JPY: Bank of Japan to announce amount of outright purchases of government securities
EUR: Germany January IFO business climate
CAD: Bank of Canada rate decision
S&P 500: Earnings from Tesla, NextEra Energy, IBM

Thursday, January 26
USD: US 4Q GDP; weekly initial jobless claims
S&P 500: Earnings from Intel, American Airlines, Southwest Airlines, Mastercard, Visa

Friday, January 27
NZD: New Zealand January business confidence
JPY: Japan Tokyo CPI
USD: US December PCE deflator, personal income and spending; January consumer sentiment
Amid an uneasy global outlook, the health of the world's largest economy will certainly be closely scrutinised.
The first release of fourth quarter 2022 US GDP will grab the headlines.
Estimates for the data are relatively upbeat at around 3% q/q annualised which would imply real GDP increased by 1% over the four quarters of 2022. Consumer spending is expected to remain a key driver given the strong performance in October.
Despite the resilience shown in US hiring, with the unemployment rate still at pre-pandemic lows, the labour market may take a hit in the next few months with more high-profile job cuts being announced recently by Google and Microsoft in the last week alone.
Having recently announced headline-grabbing layoffs, these big-cap companies are also due to release their respective quarterly earnings over the coming days.
Microsoft, IBM, Intel, and Tesla are among the tech luminaries with announcements due, while household names such as Johnson & Johnson, Verizon, AT&T, Mastercard and Visa are set to feature this week as well.
In fact, 26% of the benchmark S&P 500 index report over the next five days.
Hence, given their collective heft, these big-cap earnings along with the US economic data could determine whether the S&P 500 ends the week above or below the psychologically-important 4,000 mark.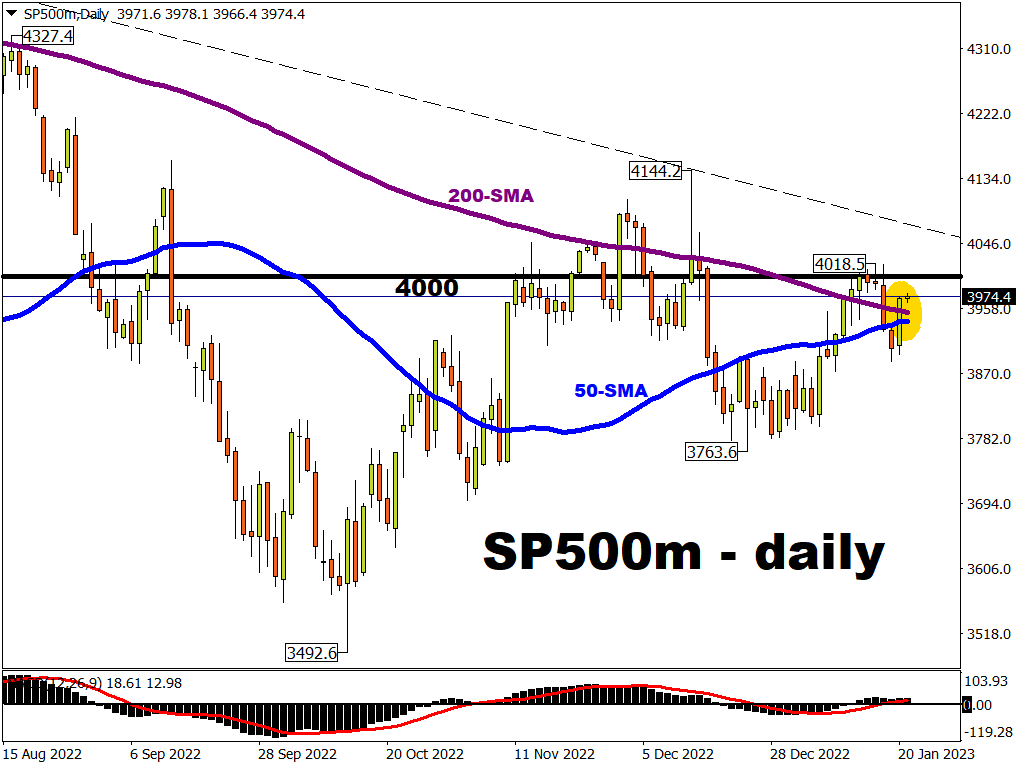 At least from a technical perspective, a bright spark looms.
The S&P 500's 50-day simple moving average (SMA) is on course to breaching its 200-day counterpart. Such an event, known as a "golden cross" tends to send a bullish signal to traders and may encourage further gains.
Here's how the S&P 500 fared following its past three "golden crosses"
July 2020: S&P 500 climbed by a further 50%, culminating in its current record high registered over a year ago, in early January 2022.

End-March 2019: S&P 500 climbed by another 20% as it came tantalisingly close to the 3400 mark, before the steep dropoff in February 2020 as the Covid-19 pandemic gripped global markets.

April 2016: S&P 500 advanced by another 40% until its then-peak in September 2018

Still from a technical perspective, the S&P 500 may use the bullish signal from a "golden cross" to clamber above the psychologically-important 4k mark.
Ultimately, this blue-chip index has to conquer the mid-December spike at 4144.2 in order to meaningfully break out of the downtrend that's persisted for the past year.
Equity bulls will be hoping that the US economic data and the earnings support this risk-on narrative.