The rescheduled Bank of England meeting takes place today with the rate decision slated for 11.00 GMT.
Markets are betting that the MPC may have to speed up its rate hike path for the second meeting in a row, as inflation hovers around 10% while the pound sinks to new multi-decade lows.
Weak sterling has helped the benchmark FTSE 100 this year hold up relatively well. The UK stock market's benchmark index is down about 2.7% so far this year, faring much better than the S&P 500's 20.5% year-to-date decline (a 20% drop from its recent peak marks a 'bear market').
The question is whether more aggressive central bank rate hikes will support GBP and hinder the performance of the benchmark index.
Domestic economic data has weakened further since the August MPC meeting while prices and inflation have increased. Consumer confidence has fallen to record lows, recent retail sales prints have been weak, GDP fell in June by 0.6% and business surveys have softened.
Meanwhile, headline CPI dipped below 10%, but core prices continued to rise more quickly than normal. Wage growth also remained strong. The bank may also have to now consider the government's latest package of fiscal measures that includes energy price cap support, tax cuts and cancellation of a planned rise in corporation tax.
This will add to inflation concerns and could mean rates are kept higher for longer.
GBP continues to make new lows
For many traders, the plunging pound is the most important issue, as this could make policymakers more inclined to go with a jumbo-sized 75bp hike.
Yesterday's hawkish Fed rate hike has seen money markets in the UK now forecast a peak rate of 4.9% by June next year. Cable is down nearly 17% this year and looks decidedly bearish.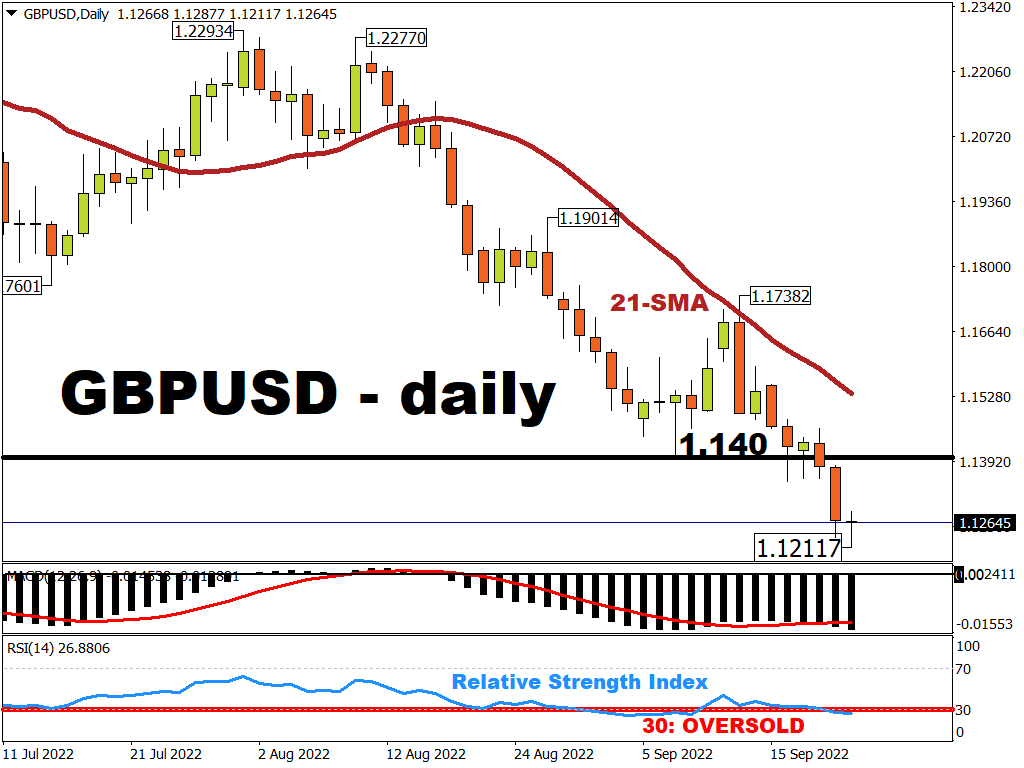 A falling exchange rate is undesirable during periods of high inflation as it worsens inflationary pressures by making imports more expensive.
However, FTSE 100 companies may take a different view.
They generate around 75% of their revenues outside the UK, so the market is less sensitive to domestic growth concerns. It means earnings growth is boosted by the weaker pound so a bigger hike may ordinarily see a rebound in GBP.
Money markets actually predict a bigger 75bps rate hike today taking rates to 2.5%, while consensus only sees another half-point rate rise.
Technically, the FTSE 100 has been trading in a rough 600-point range for most of the year between 7,000 and 7,600.
Near term Fib support of this year's high and low sits at 7,114.4 which more or less tallies with this month's current bottom.
Several long-term moving averages like the 50-day and 200-day congregate above 7,300 which act as initial resistance.