Risk events are aplenty over the next couple of days with markets fully expecting to be shaken up.
We make it eight major central bank meetings in the space of 48 hours or so including G10 majors like the Bank of Japan, the Bank of England and the Swiss National Bank.
Rate hikes are forecast for all but Brazil, where rates are close to 14% already, and Japan.
The highlight is tonight's FOMC meeting which is set to deliver another jumbo-sized rate hike to rein in stubborn and sticky inflation.
There are various moving parts to the Fed meeting, including:
the actual size of the hike
the statement language
the new economic projections
and the press conference.
We've had a continuous chorus of Fedspeak over the past few weeks and together with the shock August inflation data which surprised to the upside, markets are expecting a hawkish hike of 75bps.
1% rate hike, really?
The chances of a mega-hike of 100bps have receded since the release of those CPI figures, and now stand at 18%.
A three-quarter point move would be the third in a row, and the fourth rate rise this year.
It seems a 1% move could denote panic in the Fed ranks and increase the likelihood that the central bank overshoots in tightening policy. The chances of a soft landing would also slide.
The statement language will be guided by the latest Summary of Economic Projections, which were last released in June. Meaningful changes in expectations are likely with the forecast for the Fed funds rate shown in the dot plot expected to be more hawkish.
The previous projections saw rates at 3.4% at the end of this year, followed by 3.8% by the end of 2023.
Markets currently see rates peaking at 4.5% in March and to be cut to 4% by December next year. The latest projections are likely to show lower growth and higher inflation.
Ahead of such a pivotal event, the equally-weighted USD index, which tracks the US dollar's performance against six of its G10 peers, punched its way to a fresh two-year high.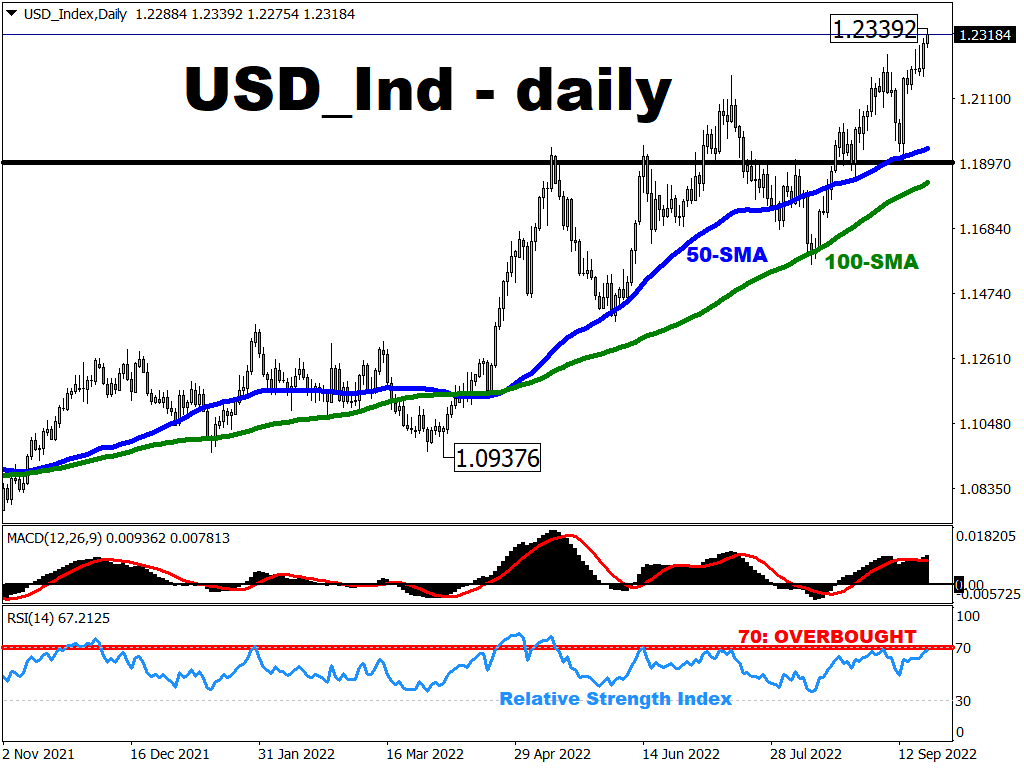 The buck's climb was given fresh legs especially after last week's release of the red-hot inflation data, which ramped up market expectations that the Fed has to stay aggressive with its battle against multi-decade high inflation. That should translate into a preference for larger-than-usual rate hikes, while keeping US interest rates elevated for longer.
All that said, it seems markets are primed for the minimum of a 75bp hike today, with hawkish forecasts.
On the flip side, that also suggests there will be disappointment if this is not met, with dollar selling off and an equity relief rally potentially ensuing.