Much has already been made about crypto's stunning start to 2023, as the optimism surrounding a less aggressive Fed has swept up risk assets.
But one cryptocurrency in particular has been able to weather the crypto winter better than others.
Enter, Litecoin.
Although Litecoin's year-to-date gains of about 29% lags those of Bitcoin (40%) and Ether (36%) at the time of writing, a longer-term look back paints a different picture.
Since Litecoin's trough back in June, it has surged by as much as 130.56% (using intraday prices) as of yesterday. And it's still trading around levels not seen since May 2022.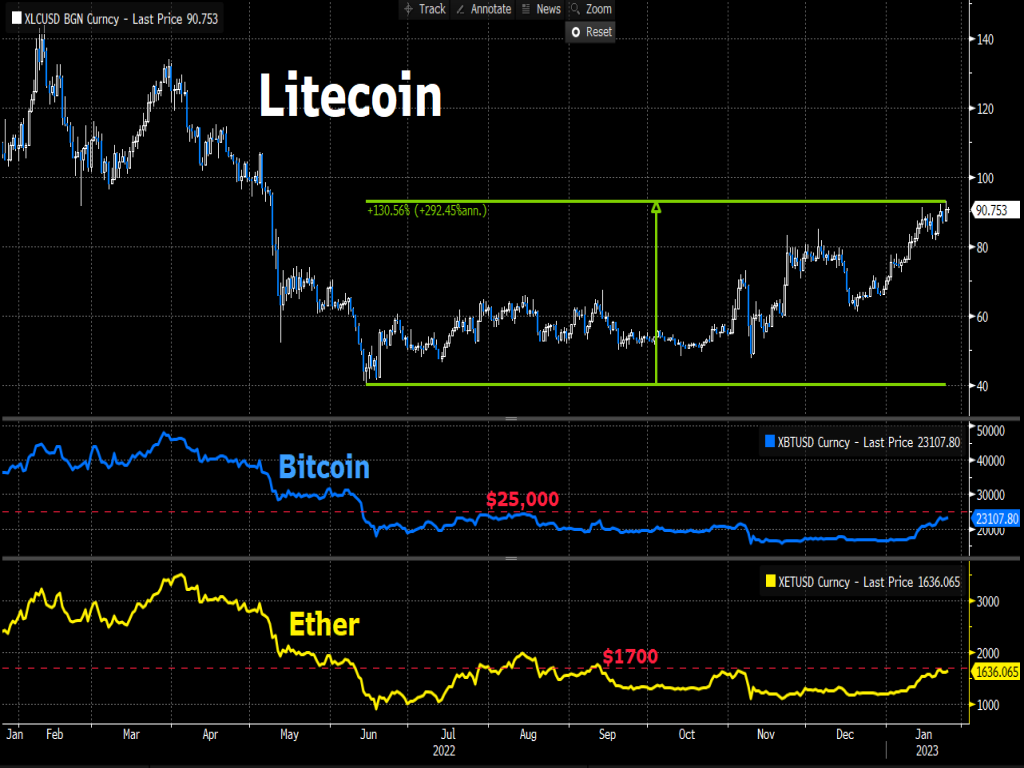 That's in contrast to the likes of Bitcoin and Ether, which have yet to respectively better cycle highs from the second half of last year, despite their recent gains.
Why has Litecoin been able to buck the crypto winter?
The likely reason has got to do with Litecoin's next halving – its third - which is expected to occur in July (as cited in our first weekly crypto article of the year).
A halving (also known as "halvening" in crypto lingo) is when the rewards for securing and recording transactions on Litecoin's blockchain are lowered by 50%.
With miners being offered reduced-rewards, the idea for such halvings is to lower the supply of Litecoin.

And as basic economic theory goes, when supply goes down (ceteris paribus - all else equal), then prices tend to rise.

Note how Litecoin's prices also surged in the leadup to its previous two halvings back in August 2015 and August 2019. A halving typically occurs once every 4 years.
Prior to its most recent halving, Litecoin soared by as much as 546.82%, peaking at $143.95 in June 2019 before unwinding almost all of those gains through the onset of the global pandemic in 2020.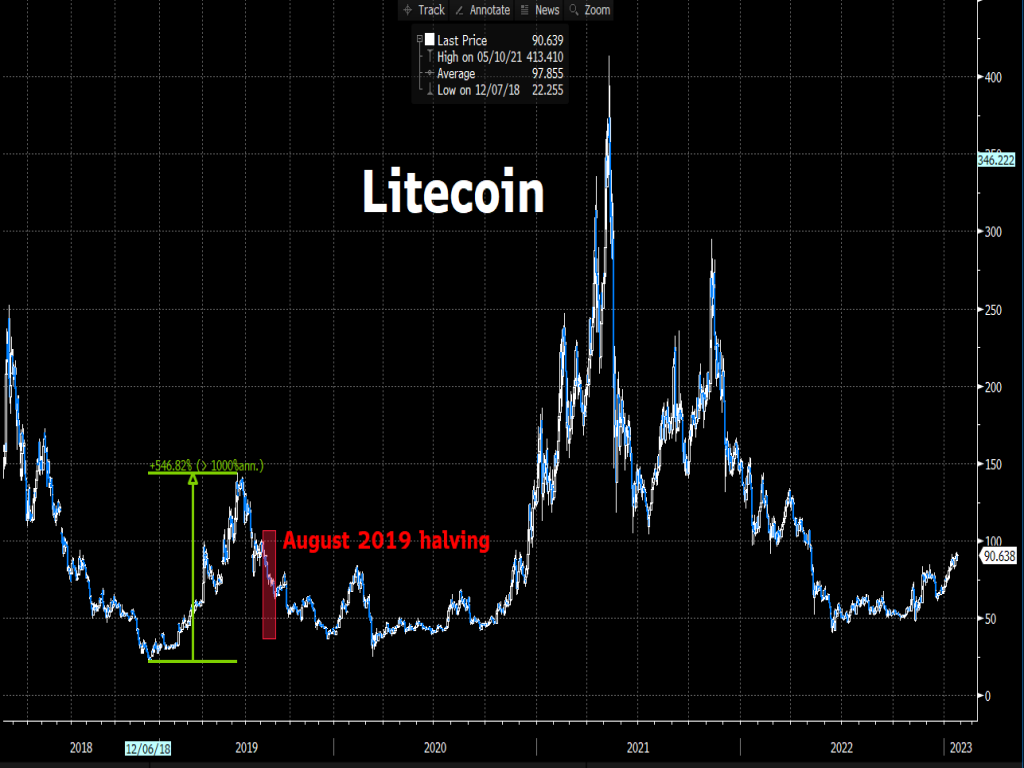 Assuming that pre-halving gains from previous instances can indeed be replicated in today's market environment, that suggests more gains ahead of Litecoin's July 2023 halving.
And that's even with this crypto having already booked gains of more than 100% since mid-2022.
Of course, these are mere assumptions.
Pre-halving gains from past episodes are not guaranteed in the future, despite the tokenomics of such halvings.
There is still plenty of uncertainty whether the crypto world can even return to "business as usual" this year, in the aftermath of 2022's high-profile implosions.
Ultimately, broader market sentiment has to remain conducive for such risk-taking activities in this corner of the crypto world, amid plenty of worries still featuring on the market's outlook including recession fears and uncertainty over the Fed's policy outlook.