And so, the "Merge" has come and gone.
Turns out, it was a sell-the-news type event (which we mentioned as a risk in last week's crypto article).
Since completing its long-awaited major software upgrade last Thursday (September 15th), Ether's prices have fallen by as much as 22.5%.
The world's second-largest token is currently trading in sub-$1400 territory, and also below its 100-day simple moving average (SMA).
Perhaps more alarmingly for Ether aficionados, post-Merge price action has dragged it below the upward trendline that had supported its climb since mid-June (refer to upward sloping white-dashed line in chart below).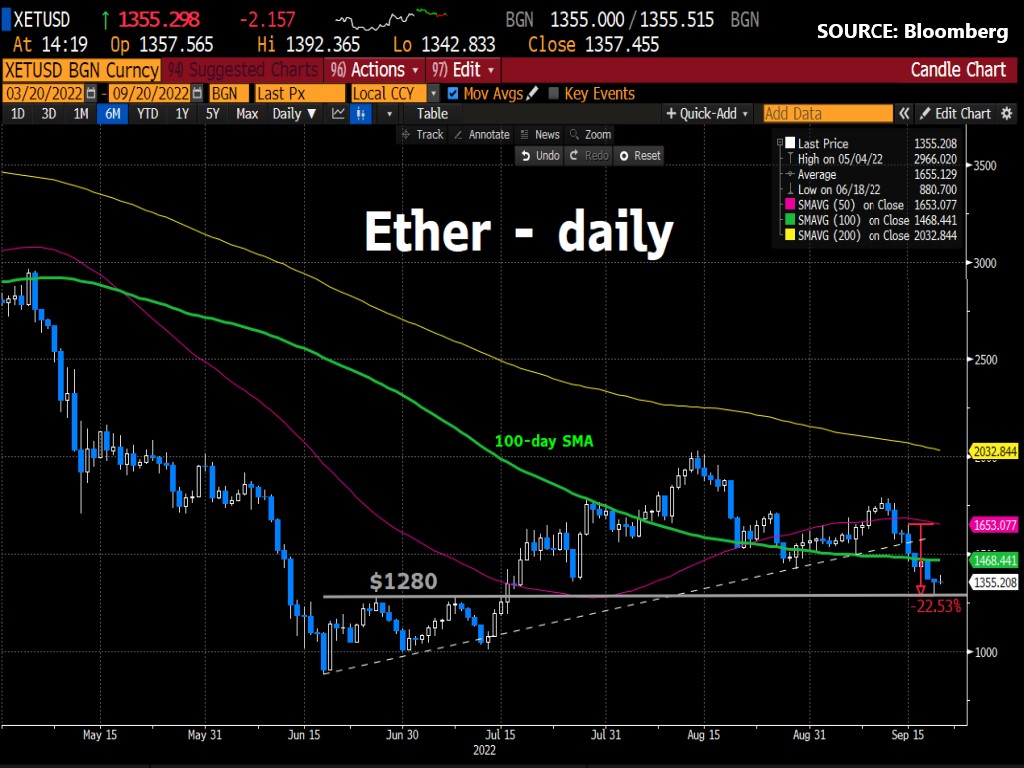 Ether is now testing a key price region around $1280 for support, which also marks the "twin peaks" from this past summer.
Should this support level give way, Ether may well plummet back down to the psychologically-important $1000 mark, with the mid-June low of around $880.70 then beckoning for bears.
Cryptos still beholden to macro woes
Ultimately, cryptos, as with risk assets in general, have all to do to hang on to gains amid the onslaught of incoming jumbo-sized Fed rate hikes.
Risk assets could be injected with fresh volatility this week, depending on what the Fed conveys to global markets after its FOMC meeting concludes tomorrow (Wednesday, September 21st).
The prospects of US interest rates running much higher, besides sucking out the liquidity that the crypto world is very much dependent on, are also ramping up global recession risks.
Such a disconcerting outlook has sent risk aversion coursing through global financial markets, with cryptocurrencies not spared from the risk-off tide.